Your Comprehensive Guide to Engagement Rings
Choosing an engagement ring is a significant milestone, sometimes tinged with pressure to make the perfect choice. With our Ultimate Buyer's Guide to Engagement Rings, Jacobs the Jewellers demystifies the journey, offering comprehensive insights and expert advice.
Whether you're venturing into the world of diamond engagement rings or considering various ring band metals, our guide to buying an engagement ring can help you navigate the big decision ahead of you with the utmost confidence in your choice. Make use of over 75 years of our jewellery expertise and heritage to make your informed decision and make a perfect choice.
What's Inside the Guide to Engagement Rings?
The guide discusses: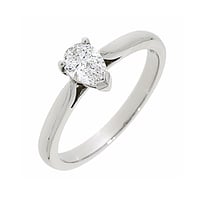 Selecting the right band metal

A comprehensive explanation of diamond engagement rings

Identifying high-quality rings and their characteristics features.

Tips on how to choose an engagement ring that suits your partner and budget perfectly.
At Jacobs, we pride ourselves on providing great value and personalised service, ensuring you make the right choice.
Let us make your choice easy
Equip yourself with essential knowledge and insights before buying an engagement ring. Download your free copy of our Ultimate Buyer's Guide to Engagement Rings today, and embark on your journey to find the perfect ring with confidence.